After a week of reading moose books and drawing, I finished my new piece. The inspiration comes from that cartoon we all know and love, "Blackfly" which can be found amongst other fantastic Canadian films at nfb.ca Here is a close-up of the new piece which measures 32″x24″. I used a combination of house paint (acrylic latex), oil washes, and pen. Of course it is for sale.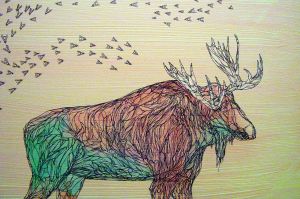 Here is the cartoon I mentioned.
Blackfly by Christopher Hinton 1991
Some footage of two bull moose sparring.